October 4, 2019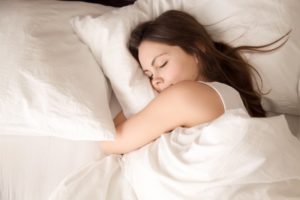 If you've been on social media recently, you've probably seen someone touting the benefits of weighted blankets. Although they were originally used to soothe the restless minds of those with conditions like anxiety, ADHD, and ASD, pretty much anyone can use them to achieve better quality sleep. In particular, they may be helpful for those with sleep apnea. Let's find out how weighted blankets work and how they can benefit those with sleep disorders.
How Do Weighted Blankets Work?
Many people claim that sleeping under a weighted blanket feels like being enveloped in a warm hug by someone you love. Weighted blankets apply a gentle pressure evenly throughout the whole body. This is known as "deep pressure stimulation," which can have powerful effects on both the body and mind. Deep pressure stimulation lowers arousal of the nervous system, which can be overactive in people with anxiety. It also lowers the heart rate and increases feelings of calmness and relaxation.
What Are the Benefits of Weighted Blankets?
The deep pressure stimulation that comes from weighted blankets can change a great number of hormones in the body, promoting better quality sleep:
Stimulate oxytocin: Oxytocin is also known as the "feel-good hormone" that generates feelings of closeness and attachment, as well as a deep sense of calm. Think about getting a big warm hug from someone you love. That's oxytocin at work. It's also just one of the many hormones involved in regulating your sleep cycle. Levels of oxytocin naturally increase during sleep, particularly deep REM sleep. Studies have shown that increasing oxytocin during sleep may reduce the symptoms of obstructive sleep apnea.
Decrease cortisol: Deep pressure stimulation reduces cortisol, a hormone that stimulates the body's stress response. High levels of cortisol make it hard to fall and stay asleep. As you get ready for bed each night, the body's cortisol levels go down, but stress and anxiety can make them go up again. A weight blanket may help to suppress the release of this hormone.
Increase serotonin: Research has demonstrated that deep pressure stimulation helps increase levels of serotonin, a hormone that promotes relaxation, day and night. Serotonin also stabilizes the mood as well as sleep-wake cycles. Inadequate serotonin levels can contribute to depression, anxiety, and disrupted sleep.
As you can see, there is no shortage of benefits of using weighted blankets. If you find yourself experiencing sleep problems, it couldn't hurt to try one out.
About the Author
Dr. Pamela West is a dentist in Las Vegas who has been involved in the treatment of sleep apnea for more than five years and counting. She is a member of the American Academy of Dental Sleep Medicine, and she works with a team of leading medical experts across Nevada to improve the treatment of sleep apnea and snoring. If you think you may have sleep apnea, you can contact Dr. West's practice, iSleepSolutions, via their website or call (702) 602-2000.
Comments Off

on The Benefits of Sleeping Under a Weighted Blanket
No Comments
No comments yet.
RSS feed for comments on this post.
Sorry, the comment form is closed at this time.