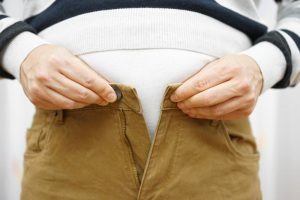 At the beginning of 2021, were you among the millions of people who resolved to lose weight this year? Whether you want to shed the "quarantine 15" or reach long-held fitness goals, hopefully all is going according to plan. If it is not, have you considered that the quality of your sleep might be part of the reason why? Let's talk about the connection between weight gain and sleep apnea and what you may be able to do to address both conditions.
How Sleep Apnea Leads to Weight Gain
Obstructive sleep apnea, sometimes simply called OSA, is a condition marked by pauses in breathing throughout the night. It can contribute to weight gain in at least two ways:
Sleep deprivation can lead to cravings for high-calorie foods. Sleep helps to regulate the hormones that control appetite and satiety. Without enough sleep, you are likely to have elevated levels of the hormone that triggers hunger and lower levels of the hormone that signals fullness.
You may not have enough energy to exercise. Daytime fatigue is a common symptom of OSA, and it can make it extremely difficult to get enough exercise to stay in shape and help your body burn all the calories you consume.
How Weight Gain Leads to Sleep Apnea
Unfortunately, the relationship between weight gain and sleep apnea is reciprocal. Weight gain can worsen or even cause sleep apnea because:
Fat deposits around the neck can block the airway. A neck circumference of more than 17 inches for men and 16 inches for women can greatly increase the risk of sleep apnea.
Excess fat can reduce lung capacity. High body weight can compress the chest wall, putting pressure on the lungs. When your lungs are not functioning properly, collapse of the upper airway is more likely.
Breaking Free from the Cycle
At first, the above information may be rather disheartening. However, there is reason to believe that you can improve the quality of your sleep and achieve a healthy weight. Start by consulting with a sleep apnea expert. They can help you analyze your symptoms and arrange for a sleep test, after which you can explore your treatment options. Oral appliance therapy, which uses a mouthguard-like device to reposition the jaw and prevent the airway from collapsing, has proven effective for countless individuals.
Treating your sleep apnea may not automatically lead to weight loss, but it can play a role in helping you reach your fitness goals. You may find that your cravings are easier to control, and that you have the energy you need to stick to a reasonable workout plan.
Sleep apnea and weight gain are closely linked, but with professional assistance, you may be able to conquer both problems!
Meet the Practice
Dr. Pamela West is a dentist who is trained to help patients conquer sleep apnea via oral appliance therapy. If you would like to learn more about OSA, the health risks associated with it, and available treatments, she would be pleased to talk with you. Contact our practice at 702-844-6226 to ask questions or schedule a free consultation.