September 15, 2018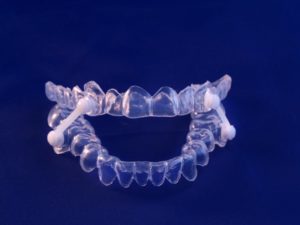 To treat your sleep apnea, you've been provided with a CPAP (controlled positive airway pressure) machine to wear at night. The unit consists of a mask that connects to a central base that pumps air through a tube. For some people, this isn't the ideal way of treating sleep apnea. Is there an alternative? Read on to learn about a better way to receive sleep apnea treatment in Las Vegas!
The Problems with the CPAP Machine
There are a few features of the CPAP machine experience that many patients aren't fond of, which include the following:
The machine is loud and disrupts the sleep cycle.
The mask is uncomfortable to wear while sleeping.
Transporting the machine when traveling presents challenges.
An Alterative Method to Treat Sleep Apnea
Patients are still able to get the treatment they need for sleep apnea with an oral sleep appliance. It's custom-designed by your dentist to fit your mouth and to position either your jaw or tongue so that air can flow easily while you sleep.
Common Types of Oral Sleep Appliances
Here are the two primary types of oral sleep appliances available from your sleep dentistry specialist:
Mandibular Repositioning Device – This type of appliance is designed to slightly move the lower part of your jaw. The small adjustment creates the alignment necessary to allow air to pass through your throat properly.
Tongue Retaining Device – Another alternative is an oral appliance designed to hold the tongue forward so it doesn't fall backwards and restrict your airflow. This is more often suggested for patients with larger tongues, tooth loss or bouts of intense joint pain.
The Advantages of Working with an Expert
If you're diagnosed with sleep apnea, then it benefits you to work with a dentist with the knowledge and experience needed to restore you to normal. This professional will take the time to assess your current condition to make a sound diagnosis and provide the proper treatment protocol for your situation.
How to Start the Process
The process for getting the sleep you need starts with reaching out to your dentist to schedule a consultation. While there, your specialist will take the time to examine your current condition to determine the best course of action to improve your health.
So remember, if you've been dealing with daily lethargy, bouts of depression, irritable moods or erectile dysfunction, then you're in need of sleep apnea therapy in Las Vegas. Your path to better rest and a more productive life starts today!
About the Author
Voted as one of the "Top Dentists" in Greater Las Vegas, Dr. Pamela West has over five years of experience treating sleep apnea. A member of the American Academy of Dental Sleep Medicine, she helps patients take control of their oral sleep issues with custom appliances at iSleep Solutions. Dr. West can be reached for more information through her website.
Comments Off

on Your Dentist Says You Need Sleep Apnea Treatment in Las Vegas!
No Comments
No comments yet.
RSS feed for comments on this post.
Sorry, the comment form is closed at this time.