January 8, 2019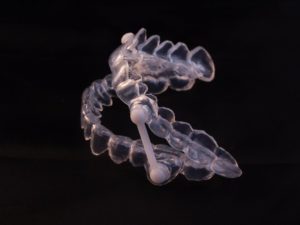 For people who suffer from sleep apnea, the most common form of treatment offered is the continuous positive airway pressure (CPAP) machine. While it is an effective form of therapy, many patients aren't fond of its bulky size and the noise it makes while operating. The good news is there are other options, many of which are offered at your sleep center in Las Vegas. Read on to learn about them!
The Advantages of an Oral Appliance
The CPAP machine consists of a mask, a connected tube and a base unit that work together to pump air into your throat throughout the night. While one of the goals of sleep apnea therapy is to allow for a normal night of sleep, many patients who undergo treatment with the CPAP machine, still find it difficult to get the comfortable rest they need.
The alternative, an oral appliance, provides the following advantages:
It's a portable device, which makes it easy to travel with.
Because it isn't motorized, it allows for peaceful sleep.
It helps to reposition the jaw to allow for a more natural flow of oxygen.
Two of Groups of Appliances
Oral appliances are commonly categorized into two groups. They deliver similar results but through slightly different methods.
Mandibular Repositioning Device
This type of oral appliance is designed more specifically for treating obstructive sleep apnea (OSA), which refers to the partial blockage of the airway. The device slightly repositions the jaw, tongue, and other parts of your oral cavity to allow for better airflow.
Tongue Retaining Device
This device places more focus on the position of the tongue. Thus, it's designed to push the latter forward to prevent it from blocking the airway. This method is used more often for patients with larger tongues, who've suffered tooth loss or have chronic pain.
Here are some of the specific types of oral appliances available:
SomnoDent Flex – The main feature of this option is its soft liner that provides a sure and comfortable fit.
Herbst Appliance – Patients are able to enjoy a greater range of motion when wearing this device while also maintaining optimal comfort.
Narval CC – Designed specifically for treating OSA, this option allows for a more fluid form of jaw movement, and it's also less restrictive of the tongue, which makes it easier to speak when wearing it.
To experience any of these benefits, though, you'll first need to visit your sleep dentist. Then, with treatment for sleep apnea in Las Vegas, you can soon get better rest and enjoy improved overall health.
About the Author
A graduate of the University of Southern California School of Dentistry, Dr. Pamela West is highly trained and experienced in treating sleep apnea. As part of her commitment to excellence, she also maintains professional affiliation with the American Academy of Dental Sleep Medicine. Dr. West provides custom-designed oral appliances to treat sleep apnea at iSleep Solutions, and she can be reached for more information through her website.
Comments Off

on The Oral Appliance You Need at Your Sleep Center in Las Vegas!
No Comments
No comments yet.
RSS feed for comments on this post.
Sorry, the comment form is closed at this time.