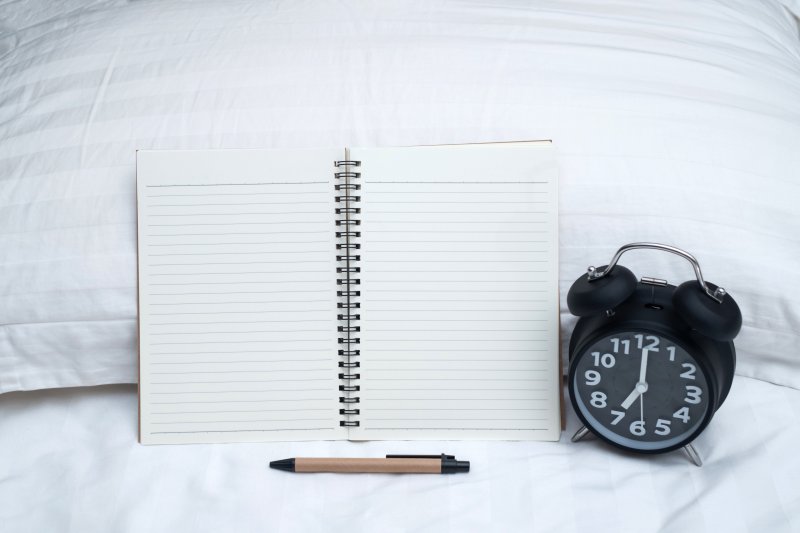 Even if you've noticed warning signs of sleep apnea, treatment can't begin right away. After all, there are different kinds of sleep disorders that are linked to unique causes; in order to successfully treat them, they need to be properly diagnosed. There are a few different ways to confirm that you have sleep apnea, but one step that you might be asked to take is to keep a sleep diary – a useful reference tool that can give you and your sleep doctor some important context about your resting habits. Read on to learn how a sleep diary could be the first step to enjoying peaceful nights again.
What is a Sleep Diary?
A sleep diary is a record of your sleeping habits over a given period of time. Whenever you wake up in the morning or after a nap, you should update your sleep diary with the amount of time you spent asleep. Generally speaking, a sleep diary that has been updated over the course of 1 to 2 weeks will give you the best possible indicators of whether or not you have sleep apnea. You should bring it with you when you go to see your sleep specialist; they'll be able to tell you whether or not the data points to a possible sleep disorder.
What Do I Need to Write Down in My Sleep Diary?
The more information your sleep diary contains, the better. For example, in addition to how much time you spend sleeping, you should also estimate the amount of time you stayed awake while resting in bed. You should also take note of how many times you wake up during the night. (Most sleep apnea awakenings are so brief that you don't even remember them later, but there will be times when you are aware of them.) Other factors to take note of include:
What you ate or drank before bed and when.
Your emotional state and how much stress you were under during the time.
How rested you feel when you wake up.
Any bouts of sleepiness or tiredness that you feel during the day.
How Will My Sleep Diary Be Used?
When you show your diary to your sleep doctor, they can ask more details about your sleep based on what you've recorded. The data recorded can help narrow down whether or not you have a sleep disorder, and a sleep study might be scheduled based on the results.
Are you not sure how to get started keeping a sleep diary or seeking a sleep apnea diagnosis? Getting in touch with a sleep dentist can be a good first step; they can point you in the right direction for what needs to be done to improve the quality of your nightly slumber.
About the Author
Dr. Pamela West knows better than anyone that dentists are uniquely positioned to diagnose and treat a wide variety of issues involving the mouth, and that naturally includes obstructive sleep apnea. At her practice, iSleep Solutions, she has been helping patients enjoy restful nights again over the past decade. If you'd like to ask about keeping a sleep diary or scheduling a sleep study, get in touch with her through her website or by calling (702) 602-2000.