May 23, 2020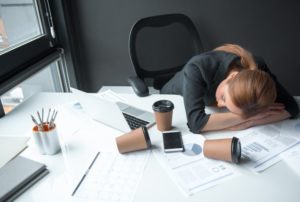 Do you find yourself being deprived of a sufficient amount of sleep throughout the week? If you're like most people, you just power through the lethargy, irritability and other issues that arise, because you don't have time to slow down. Thus, you may find yourself trying to play catch-up on the weekends. Are the extra hours of "shut-eye" enough to make-up the deficit? Read on to get the answer, learn about the potential of sleep apnea in Las Vegas as the catalyst, and discover how a sleep dentist can help you recover.
Why the Weekend is Too Late to Make Sleep Gains
Just like nature, humans function in a cyclical manner. Thus, after a full day of activities, the mind and body need to reset so they can function at full capacity the next day. As the week goes by, if this relative process of "wiping the slate clean" is not performed, junk begins to collect in the form of scavenger proteins, free radicals and other health-threatening growths that leave you constantly feeling exhausted, while also compromising your immune function.
By the time the weekend arrives, you're already at a significant deficit. It's better to take a more progressive approach so you can rest better throughout the week.
Some Ways to Sleep Better
Here are some steps you can take to start getting adequate rest:
Figure out your ideal amount of sleep – Track how many hours you sleep each night, and whether on certain occasions you feel more rested than others. Pay attention to how many hours you slept when you had the most energy.
Assess your sleep routine – Are you watching television or using electronic devices before retiring for bed? Consider shutting them off around 45 minutes before turning in for the night.
Take action – Once you've collected some data and determined what changes you can make, take the appropriate action.
Be patient – Don't expect things to turn around spontaneously. Give it a couple of weeks and track your progress.
When You Should See a Doctor
Over time, if your efforts are fruitless, then it could be a sign of sleep apnea. You can also ask a family member or partner if you make any loud snoring or gasping sounds when you're asleep, as it could, too, be an indicator of sleep apnea. If you suspect this is the issue, you should bring it to your doctor's attention so you can be scheduled for a sleep test.
By being proactive and receiving the expert care you need, you'll eventually be able to get effective sleep throughout the week, and experience a boost in your mental and physical health!
About the Author
A graduate of the prestigious University of Southern California School of Dentistry, Dr. Pamela West is an expert in treating sleep breathing disorders. To stay abreast of the latest changes and breakthroughs in sleep dentistry, she maintains professional affiliation with the American Academy of Dental Sleep Medicine. Dr. West helps patients rest better at iSleep Solutions, and she can be reached for more information through her website.
Comments Off

on Is It Enough to Wait Until the Weekend to Get Adequate Sleep?
No Comments
No comments yet.
RSS feed for comments on this post.
Sorry, the comment form is closed at this time.