August 10, 2018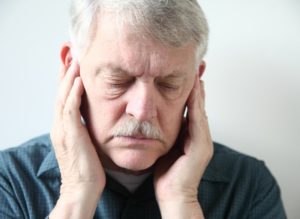 Have you been having pain sensations at the point where your jaw hinges? Do you notice frequent clicking and locking in the same area? If you have any of these symptoms, then you may be suffering from TMJ disorder, a serious condition that shouldn't be ignored. As you read on, your dentist weighs in to explain what this condition entails and what can happen if it isn't treated.
What is the Temporomandibular Joint (TMJ)?
The TMJ is the place where your jaw attaches to your skull and is located at the base of your ear on both sides of your face. It is a unique complex that allows the jaw to move through the following planes of motion:
Sagittal – This refers to opening, shutting, forwarding and reversing the jaw.
Frontal – The TMJ also allows the jaw to move laterally.
Transverse – The TMJ is unique in that it allows for a somewhat circular movement.
Over time, the joint can become worn from the frequent use it endures. When this happens, there will be recognizable signs.
Symptoms of TMJ Disorder
As mentioned earlier, some of the signs of TMJ problems are pain, clicking and locking. Here are some other indicators to be on the lookout for:
Ear, head or neck pain
Difficulty opening the jaw
Nighttime teeth grinding and jaw clenching
These are serious warning signs that shouldn't be ignored. It makes life a lot easier to be proactive and address the symptoms early.
The Dangers of Ignoring TMJ Problems
A 2012 study found a connection between untreated TMJ disorder and bouts of depression and anxiety. This condition can also lead to frequently-occurring pain sensations that become more intense as time goes by. There is also evidence that untreated TMJ issues can contribute to back pain.
Thankfully, your local dentist provides TMJ treatment using either the CPAP (controlled positive airway pressure) machine, a custom-made oral appliance or a combination of the two.
Oral appliances are gaining in popularity because they are quiet, portable and comfortable. In addressing your TMJ issues, they also protect your teeth from premature breakage from the added pressure brought on by nighttime clenching.
Seek Help
The first step to getting relief from TMJ disorder is to reach out to your local specialist to schedule a consultation. While there, you'll be thoroughly examined so that the correct treatment protocol can be initiated. Furthermore, you'll learn more about the disorder and what forms of treatment will be best suited for your needs.
About the Author
A graduate of the University of Southern California School of Dentistry, Dr. Pamela West is an expert in providing TMJ Therapy. She possesses the unique skill set, experience and training necessary to ensure that her patients are able to sleep better and have a properly functioning TMJ. Dr. West practices at iSleep Solutions, and she can be reached for more information through her website.
Comments Off

on Your Dentist Explains the Danger of Not Getting TMJ Relief
No Comments
No comments yet.
RSS feed for comments on this post.
Sorry, the comment form is closed at this time.