July 10, 2018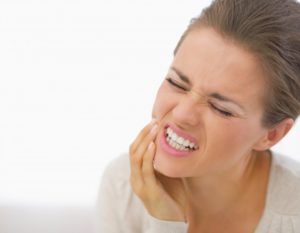 If you've noticed painful sensations coming from the place where your upper and lower jaw intersect, then you may be suffering from TMJ (temporomandibular) disorder. This condition can also cause clicking, popping and locking when you're speaking, eating or moving your jaw through its normal planes of motion. Thankfully, as you continue reading, your local dentist weighs in with 5 at-home exercises that you can do for TMJ treatment.
Why At-Home Exercises are Important
It's important to perform exercises to help in your recovery from TMJ disorder because they fortify any other treatment offered from your dentist. Here are some examples of what you stand to benefit from your at-home regimen:
More relaxed jaw
Better jaw healing
Reduced jaw clicking
Stronger jaw muscles
Increased jaw mobility
More flexibility in the jaw
Relaxed Jaw Exercise
To perform this exercise, rest your tongue gently at the top of your mouth behind your upper teeth. Slowly move your teeth apart while relaxing your jaw muscles.
Goldfish Exercise (Partial Opening)
To perform the partial-opening goldfish exercise, place your tongue on the roof of your mouth and one finger in front of your ear where the TMJ is located. Then, put your middle finger on your chin and drop your jaw halfway and then close it.
Goldfish Exercise (Full Opening)
The next progression is to use the same tongue and finger placements as above, but this time, open your jaw as far as you can. Keep in mind that these exercises are designed to be done in sequential order, so don't skip the first step.
Chin Tucks
With your shoulder blades retracted and chest up, pull your chin straight back toward your neck, creating a sort of "double chin" effect. Hold for three seconds and then repeat 10 times.
Resisted Opening of the Mouth
A final exercise to perform at home is the resisted opening of the mouth. It starts with placing your thumb under your chin. Next, open your mouth slowly, pushing gently against your chin for resistance. Hold this position for three-to-six seconds, and then close your mouth carefully.
The underlying theme here is that by working in conjunction with the care you receive from your dentist, you can get faster and more effective TMJ relief. Thus, you'll achieve the ultimate goal of having a normal life again.
If you're having nagging TMJ pain and want relief, then don't hesitate to contact your local dentist so you can get on the path to recovery.
About the Author
A graduate of the University of Southern California School of Dentistry, Dr. Pamela West is an expert on treating TMJ disorder. Thus, she's considered as one of the "Top Dentists" in Greater Las Vegas. Dr. West combines her extensive training in TMJ therapy and years of experience to help patients regain the full function of their jaw at iSleep Solutions, and she can be reached for more information through her website.
Comments Off

on Your Dentist Lists 5 Home Exercises That Aid in TMJ Treatment
No Comments
No comments yet.
RSS feed for comments on this post.
Sorry, the comment form is closed at this time.